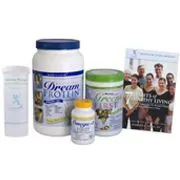 Product Details
What Is The Greens First Healthy Living Kit?
It makes a delicious, complete meal replacement that helps to alkalize your body's pH for vibrant health!
The Greens FIRST Healthy Living Shake is an easy, affordable and delicious way to improve energy, restore vitality and maximize your health! It can be used as a healthy "fast food" meal or snack that's delicious, low calorie, low carb and packed with nutrients!
Each Greens FIRST Healthy Living Kit contains a can of Greens FIRST, Dream Protein, and a bottle of Complete Essentials Ultra Pure Omega 3-6-9. Simply mix a scoop of Greens FIRST and Dream Protein and in 6 to 8 ounces of water or your favorite beverage in the Convenient Shaker Cup and take 1 Complete Essentials Ultra Pure Omega 3-6-9 softgel in the morning or anytime! The 7-Habits of Healthy Living Book provides easy guidelines on healthy eating choices, exercise plans and tips to reduce stress and put balance back into your life!
View More Information or Purchase (click here)